That was in November 1932 and today Kelly's Barber Shop is celebrating the achievement with the late Thomas Kelly's grandson, John, and granddaughter, Moira, maintaining a proud family tradition on Castle Street.
Now, John's son, Conrad, and Moira's daughter, Amy, and son, Cian, are continuing the proud Kelly dynasty.
The Kelly business consists of two barber/hairdressing shops over two floors, all of which are fully air-conditioned, and customers can relax watching television while being pampered by John, Moira and their talented staff.
John took over the barber shop when his father, Sean, retired from the business in 1999 after 51 years in the trade.
John Kelly completed his education at St. Gerald's College, Castlebar, in 1985 and went to Sligo studying the trade the following year.
He told The Connaught Telegraph: "Before that I was here helping out where my dad would be training me. Moira was here before me and she was doing the ladies side. I wanted to try the ladies end of it as well.
"I went to Sligo training under Larry Hingerton from Westport, from where I was posted into a few places for training. When I came back I got placements in a few places in Dublin. I was doing ladies hair for a while.
"We had the barber shop going here and before I knew it I started building up a client base. It was getting busier and busier and I decided to stick with the lads.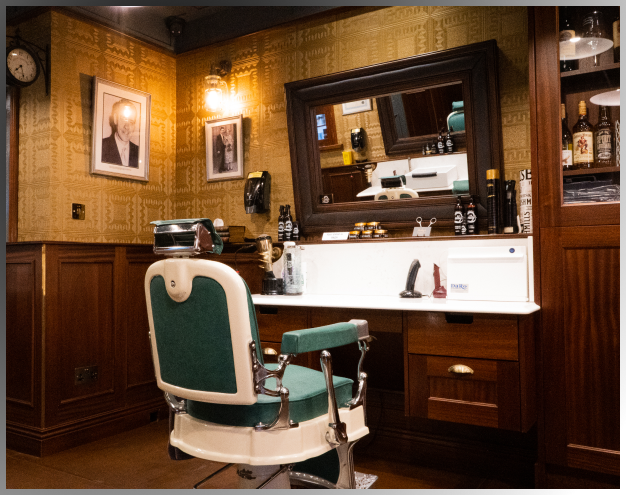 "The craic used to be great. I loved doing the ladies hair but it evolved.
"Dad was thinking of taking it a bit easier and I just went into barbering full-time. The business started getting busier and it went from myself and dad to where we now have five full-time and one part-time staff."
Conrad (16) has been working in the barber shop for two years and is in TY in St. Gerald's College.
He said: "I did a course in Kiltimagh and I would be in here most days. I did work experience in Sam's Barbers in Dublin.
"I started off here with just one or two lads as customers. Now I have fifth and sixth years coming in to me. I only started on one lad and now it has built up.
"There are different hair styles evolving. Every few years you will see a different hair style. It is more modern hair cuts with the younger lads. But you still have to have the scissors work, which is the key element to it all.
"When I finish school I will probably go on courses to England where there are a good few barbering colleges and they do one- or two-year courses.
"I was never pushed into the barbering. Dad always said do what you like. I really like the barbering. I have never tried ladies and I would not mind trying it. But I am happy with the men's for now."
John said he would love when Conrad comes back in a few years' time to do an expansion job on the premises and move up to a different level.
WHEN Thomas Kelly opened a barber shop in Castlebar 84 years ago, little did he realise he was starting something that is now in its fourth generation, writes TOM GILLESPIE.
He added: "There has been a phenomenal change in hair styles. They are changing all the time. To be able to do the tapering, the old style barbering, will never die. It will always be there. But we have gone through the long styles, the short styles, back to the long styles and back to the short styles.
"The styles are driven by footballers, the likes of which started with George Best and The Beatles and now it is the David Beckhams.
"What has evolved the whole industry is social media. All the young lads are coming with their phones and photographs of the hair styles they want. It is amazing how it has all changed."
John said there have been massive changes on Castle Street since the 1980s. It is a great street now, he said, adding: "We have great camaraderie here on the street. There are and were great business people on it, from Phil Keaveney next door to Mick Conway to Mai Leonard's, Madame, Mary and Sean Bourke and Shelia Murphy."
Conrad took up the story: "There is a great buzz here. When we open on a Saturday there could be four people waiting to get in. They come in and it is not about the haircut. It is about the craic. They sit around having a chat and a coffee. It is a pleasure for me to be the fourth generation."